Vietnam , especially the interesting life in Hanoi , is vividly featured in the first edition of ASIES, a new French magazine spotlighting Asia, which hit newspaper shelves in France early June, this year.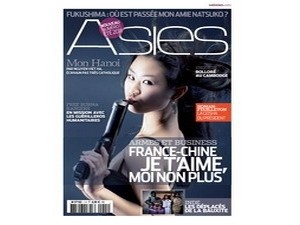 The magazine's cover (Source:VNA)
The quarterly publication is jointly published by French writer-journalist Laurent Passicousset, who is fluent in Vietnamese, and professor Philippines Papin, a well-known scholar for researches on Vietnam .
Journalist Laurent Passicousset, who acted as ASIES's director, has spent eight years in Vietnam , starting in 1992. He has a thorough knowledge of Vietnamese culture and society.
He is also the author of a French book on Vietnam , named "Vivre avec les Vietnamiens" (Living with Vietnamese people), which has been published in France in 2010.
The magazine's e-version is expected to make debut in September.
ASIES provides an overall picture of Asia , which, as for many experts, is a new reach of the world's center. It proves the significant role and attractiveness of Asia in Europe and France in particular.