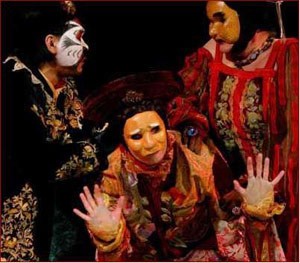 A scene of Circle of Sand
Eight countries are taking part in the second International Experimental Theatre Festival in Ha Noi: France, Laos, Norway, China, Australia, Sweden, Cambodia and the host nation. "Circle of Sand", one of the plays being staged, is directed by French scriptwriter Alain Destandau, who also runs France's Monte Charge Theatre. He is delighted to be back here.
How do you feel being back in Viet Nam?
It is a great honor for me to be invited to take part in the festival. I am also happy to be back in Ha Noi and see my Vietnamese friends again.
I will introduce not only French masked drama but also Tuong (Vietnamese classical drama) to international and Vietnamese audiences. I have a passion for Vietnamese classical drama. "Circle of Sand" has been performed in Lao Cai and Sapa for the benefit of those who know little about Tuong so that they can get a feel for the combination of two languages.
What has impressed you most about the performances of "Circle of Sand" over here?
It was great to see the Vietnamese spectators respond so enthusiastically to the bilingualism of the play. When it was performed in France, most people in the audience were very surprised to learn that the actors didn't know each other's language. I am so glad that Vietnamese audiences can understand the play despite the difficulties. Five months from now "Circle of Sand" will do a tour of France.
Is Monte Charge a typical theatre for masked drama? What are the characteristics of this genre?
Yes, it is. And there are now only a few masked performance troupes in France. An ability to show shapes, cope with the lighting and good pronunciation are mandatory for a masked performer. The specially designed wooden masks make the voice resonate and produce a very distinctive echo, which is a characteristic of this dramatic form.
What are the similarities between Tuong and French masked drama? And what about when they're combined?
I really love tuong. Through working with experienced Tuong artists such as Hoang Khiem, Khac Duyen and others in staging "Circle of Sand", I've discovered the beauty of Tuong in the movements, clothes and make-up.
I am writing a play with the working title "Antingon Viet Nam", which will likely be staged in 2008. Erhard Stiefel will continue to design masks for the play and Vietnamese fashion designer Minh Hanh will be in charge of the wardrobe. I like her designs for "Circle of Sand"; they combine elements of the Orient and the West, and show a fine creativity.
Why are you interested in the project?
For art's sake! For creativity's sake and for the public's sake! We must do more to lure more and more people to the theatre and away from their televisions.
We should not let Tuong and Cheo (another form of local drama) fall into oblivion. We need to renew them, make them more diverse to attract audiences.