In a break from competition, the stars of "Buoc nhay hoan vu" (Universal Steps) meet with their fans face to face for the first time.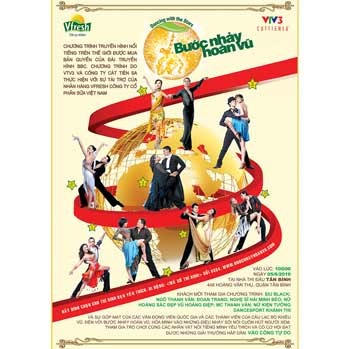 Poster for the Universal Steps' fan meeting on June 5 at Tan Binh District Event Hall (Photo: Cat Tien Sa)
The stars, for the first time, will meet their fans in a relaxed atmosphere, free of the intensity of competition, at the Tan Binh District Event Hall, on the morning of June 5.  The meeting will be extraordinary because there will not be any boundaries between fans, stars and the stars' judges, as they celebrate their shared love for the spirit of dancing.
A list of participants, including singers Ngo Thanh Van, Siu Black and Doan Trang, Miss International Beauty 2009 Vu Thi Hoang Diep, comedian Minh Beo, their foreign dance partners and dance-sport artist Khanh Thi have confirmed they will be in attendance for the June 5 meeting.
Stars will share their experiences from training for every competition and promise to reveal their secret "unforgettable" moments from the show, such as Siu Black's tears on her third night of competition and the intense emotions Van felt when her best friend Johny Tri Nguyen picked her up when she fell. In return, fans can ask their favorite artists any questions in the hopes of receiving friendly feedback.
The opportunity to see the stars sing, dance and act live on stage, will further enhance the experience for fans who attend the event, which is free-of-charge.
One day later, the stars will visit the HCMC Center for Training Disabled People and Orphans (Hoc Mon District), which is sure to be emotional as well.  Not only bringing gifts, the stars will visit the needy people with their hearts and empathies on display.  The stars have long anticipated the chance to play with children from the center and have expressed their eagerness to hear their heart wrenching stories.
The "Buoc nhay hoan vu" is the Vietnamese version of the famous U.S's TV show "Dancing with the stars".