For those who love Vietnamese music, the Vietnamese Song Award (VSA) Gala will always be an important part in their entertainment. It offers a level playing field for all the Vietnamese songs that have not been honored by VSA within the last three years.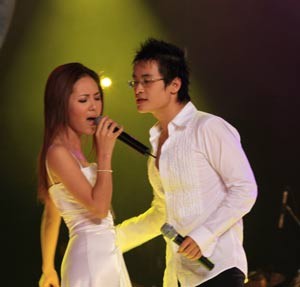 Ha Anh Tuan and Phuong Linh will perform their hit "Heaven of Love" in Gala 
This year's awards are sponsored by Viet Nam Television and by the Cat Tien Sa Company. The gala will survey works and winners from the past three years on March 30 in the Hoa Binh Stadium starting at 8 pm. 

The VSA Gala 2008 is a good chance for composers to remake their previous hits and bring fresh music to their audience. 

The audience will have the opportunity to enjoy a modern-dance version of "Chuong Gio" (Wind Chime) by Vo Thien Thanh, a passionate slow-tempo version of "Mong Anh Ve" (Waiting For Your Return) by Duong Cam, a alternative-rock version of "Them Nha Co Hoa" (Bouquet on the Veranda Floor) by Thanh Tam, an unplugged-pop version of "Nong Nan Ha Noi" (Passionate Ha Noi) by Nguyen Duc Cuong and a country version of "Giac Mo Trua" (A Dream in the Afternoon) by Giang Son. 

There will be 20 remade hits as well as other new versions of old favorites. All of these songs will be "very fresh", an organizer of the gala said.

Other songs to be play at the gala include "Cay Vy Cam" (Violin) of Le Yen Hoa, "Giot Suong Bay Len" (Dewdrops Fly Off) by Nguyen Vinh Tien, "Thien Duong Goi Ten" (Heaven of Love) by Manh Quan, "Thanh Thi" (Town) by Nguyen Duy Hung, "Canh Buom Phieu Du" (A Sail Drifts Away) by Son Thach. Glamorous stage décor will express themes from the songs of composer Duong Thu, according to stage manager Nguyen Quang Dung.

Ho Quynh Huong, Tung Duong, Luu Huong Giang, Phuong Anh, Nguyen Ngoc Anh, Hai Yen, Thu Minh, Nguyen Duc Cuong, Khanh Linh, Trong Tan, Ngoc Khue, Ha Anh Tuan, Tran Duc, and the rock bank Gat Tan Day will perform their hits for the gala.

The gala night will present previously honored composers from a variety of genres, including Vo Thien Thanh, Huy Tuan, Anh Quan, Thanh Tam, Le Minh Son, Luu Ha Anh. Newcomers include Van Phong, Nguyen Duy Hung, Duong Cam and Son Thach. 

This will be a good chance for two generations of composers to meet and discuss their ideas concerning the industry and also try to find some solutions to improve the industry in the coming years.