The German Business Association (GBA) Oktoberfest Vietnam 2016, one of Germany's most famous celebrations to Vietnam will be taken place in an authentic "Bavarian beer tent" for four days starting September 29 to October 2 in Ho Chi Minh City and October 6 to 8 in Hanoi.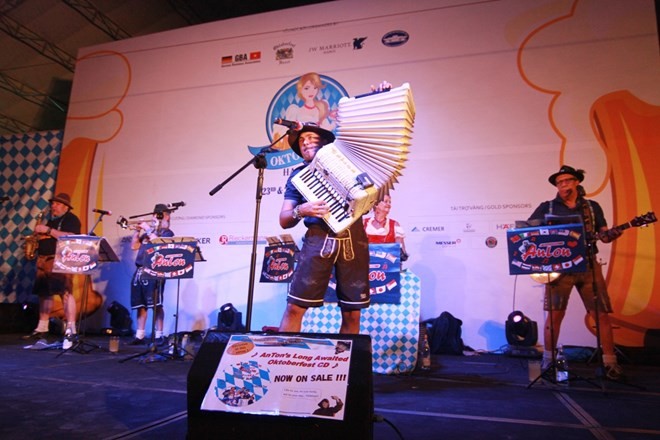 Anton band will perform at the festival in HCMC and Hanoi -Photo: VNA
The first ever Oktoberfest hosted in 1992 was a great success and set a new milestone to Vietnam's social calendar. Mr Jens Ruebbert, Chairman of the GAB Vietnam said "I am very proud that the GBA will be able to offer the most authentic Oktoberfest in Vietnam, both in HCMC and in Hanoi.
In fact, the GBA Oktoberfest Vietnam is a unique opportunity to experience Oktoberfest and entertain in a traditional German setting with an authentic flair of the world's largest beer festival as well as authentic Bavarian music from Munich-based Oktoberfest Band, Anton and the funny guys...
Vietnamese people will aslo have chance to enjoy German culture, culinary history, music and Spirit.
Mr. Marko Walde, Chief Representative of GIC/AHK Vietnam said the Oktoberfest Vietnam is the highlight of German social event this year. It is a get-together of the German, Vietnamese and International business communities to celebrate this event with their partners in Vietnam.
Many prestigious companies and brands have participarted and become official sponsors for this event including Andritz Hydro, Becks, Deutsches Haus, EuroAuto/BMW Importer, Mercedes-Benz-FUSO Vietnam, Rieckermann, DB Schenker, Deutsche Bank, Etihad Airways-AirBerlin, Lotus Green Technology, Siemens, Kärcher, Messer Hai Phong, Thyssenkrupp, Bauer Vietnam, Häfele Vietnam, Henkel Vietnam, Jägermeister-Tan Khoa, Nhat Nam Fine Foods, Theben Asia, VietTech-Fischer, World Cat Vietnam (Puma).
In HCMC, the festival will be organized at Nikko Saigon-Nikko Garden and it will take place at JW Marriott in Hanoi