German famous films from the 1990s will be screened at the Goethe-Institut Hanoi from September 6 to 12.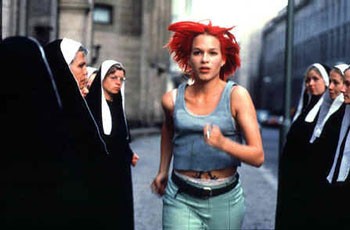 A scene in the film "Lola rennt"
The week-long film festival is part of the "60 years of German Cinema" program of the "Germany Year in Vietnam" event.

The movies includes "Deutschland, Deutschland" (Germany, Germany) of Peter Fleischmann, "Das Deutsche Kettenägenmassaker" (The Blackest Heart) by Christoph Schlingensief,  "Das Schreckliche Mädchen" (The Nasty Girl) by Michael Verhoeven, "Ostkreuz" by Michael Klier, "Nach Fünf Im Urwald" (After Five in the Forest Primeval) by Hans-Christian Schmid, "Jenseits Der Stille" (Beyond Silence) by Caroline Link and "Lola Rennt" (Run Lola Run) by Tom Tykwer.

The film week is held every two months to feature a decade in cinema history, present films which defined their times and have influence on German cinema.

Tickets are available about one week before the event.

The Goethe Institut Hanoi is located at 56-58 Nguyen Thai Hoc Street, Ba Dinh District, Hanoi.