The Central Highland province of Gia Lai is making every effort to preserve and promote the cultural space of its famous gongs, which were recognised by UNESCO as an intangible and oral masterpiece of human culture in 2006.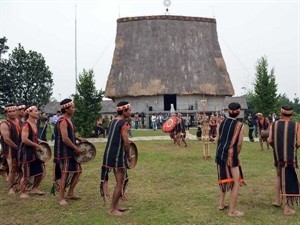 Gong performance by J'rai ethnic group (Photo: VNA)
The province reported that J'rai and Bahnar ethnic communities have preserved more than 5,600 sets of gong, many of them extremely old.
J'rai people in Ia Grai district have preserved more than 1,000 sets, while Bahnar people in K' Bang district keep over 900.
In 2006, the province invested 200 million VND to buy new sets of gongs to be given to ethnic minority villages in the locality. The local authorities also opened courses on how to adjust a gong's sound for elderly artisans.
Other courses on gong playing were also organised in schools, while clubs and ensembles of gong players were established. Gong festivals are held every two years, drawing many gong troupes in the province.
Gia Lai also teamed up with other localities in the Central Highlands to organise a series of activities to promote the heritage, with a highlight event - the International Gong Festival 2009 - drawing 60 troupes from localities throughout the country and six regional nations.
Early this year, the province also successfully held festivals and tourism activities in connection with J'rai and Bahnar's cultural space of gong.
According to Phan Xuan Vu, Director of the provincial Department of Culture, Sports and Tourism, the local authorities will continue intensifying suitable activities in the coming time, towards sustainably preserving the intangible cultural heritage.