The TV series 'Golden Bride,' produced by Seoul Broadcasting System (SBS) in 2007, will be aired at 8p.m. on HTV3 from February 9.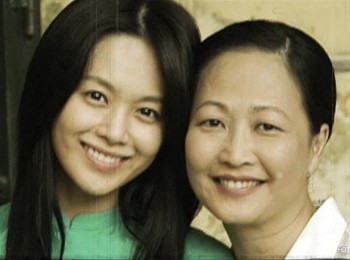 Actress Lee Young Ah (left) and 'People artiste' Nhu Quynh.
The 50 episode drama presents Vietnamese people and culture through its lead character: a half Korean and Vietnamese girl who becomes a daughter-in-law of a traditional Korean family.
The story starts when Kang Jun Woo's mother, Mrs. Han Sook, and her sister-in-law, Koon Jago, travel to Vietnam to find him a bride. They chose Nguyen Jin Joo, a good-natured and diligent half Korean and Vietnamese girl. She accepts the marriage without love in order to go to Korea to look for her own father who abandoned her before she was born.
The drama is not only about her searching for her dad but also about the cultural differences between her and her husband's family.
The conflict between the two cultures and customs drew numerous viewers when it was broadcast in South Korea in mid 2007.
Golden Bride won many prizes at the Seoul Film and Tokyo International Film Festivals in 2008.
Korean actress Lee Young Ah, who played Jin Joo, won the best new actress in 35th Korean Broadcasting Awards.
'People's artiste,' Nhu Quynh, who played Jin Joo's mother, also received an award for best foreign actress from SBS in 2007.