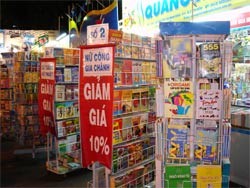 Many of books are on discount. (Photo:VH)
Up to 100,000 book titles and 10 million printed matters are on display at the festival.
Most of the bookstores offer discounts of between 20% and 60% on new books, which is said to be a golden chance for book-lovers.  
The Book Festival, organized once in every two years, attracts the attendance of 100 publishers, book distributors and bookstore owners in Ho Chi Minh City. This fourth festival is said to be larger in scale with more interesting activities than the previous one.
Various activities including book exhibitions, workshops, and view exchanges between readers and famous writers are held in five sections of the hall.
Participating in the event are 24 domestic publishing houses and 47 private book distributors.
Particularly, as many as 26 foreign publishing houses also join the event, among which there are publishers from the Southest Asia Plublishers Assocciation, the US, Malaysia  and other countries.

This is a positive step, which proves that a number of famous publishing houses believe in Viet Nam's marketplace.

With attractive arrangements of books, foreign publishers taking part in the festival have drawn the attention of all visitors at the event.
There are three small libraries with hundreds of books on display for book-addicts to surf through.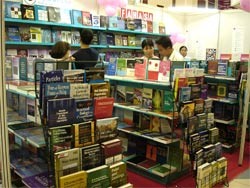 With attractive arrangement s of books, foreign publishers draw the attention of all visitors. (Photo:VH)
Books in these libraries are categorized into three themes including picture story books for children, monographs for students and all kinds of books for readers of all ages.
"The book festival is a chance to honor reading culture, a healthy playground for all readers," said Vice Chairman of the Ho Chi Minh City People's Committee Nguyen Thanh Tai at the opening ceremony on March 20, 2006.
Prize-giving ceremonies of the "Golden Books" and the "Family Book Shelf" competitions will be hosted on March 23, 2006.