The first international highland gong cultural space festival will be held in Gia Lai Province in March 2009, according to the Ministry of Culture, Sports and Tourism.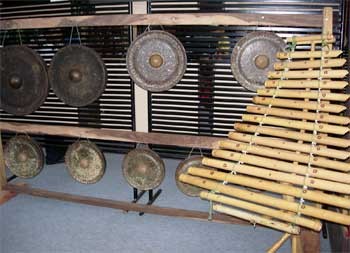 Gong is one of the main musical instruments of Central Highland ethnic groups (Photo:KK)
The event will focus on performances showing unique features of Central Highland Gong space, a photo exhibition presenting pictures on Central Highlands' gongs taken before 1954 by French scholars and an international seminar on preserving highland gong culture.

The festival will also take place in the Central Highland provinces of Dac Lac, Dac Nong, Kon Tum, and Lam Dong.

Apart from the participation of 11 gong bands from the five upland provinces and ethnic minority groups such as Ba Na, Brau, Chu Ru, Co Ho, E De, Gia Rai, Gie-Trieng, Ma, M'Nong, Ro Mam, Xo Dang, Cham, Raglai, Bru-Van Kieu, Ta Oi, Coh, Hre, Choro, Stieng and Cotu, gong troupes from Laos, Cambodia, China, Thailand and Japan will also join the festival.

The space of gong culture in Viet Nam's Central Highlands was recognized by UNESCO as a Masterpiece of the Oral and Intangible Heritage of Humanity in November 2005.