Four main projects of cultural development for Viet Nam's ethnic minority groups will be carried out from now to 2010 by the State Committee for Ethnic Minorities.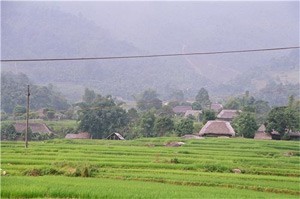 Villages in mountainous areas
The projects which belong to the national target program consist of a project to build a typical national solidarity movement and ethnic groups' cultural development in mountainous and ethnic areas; a project to develop cultural and information institution; a project to build cultural villages in absolutely disadvantaged areas; and a project to build, reinforce and develop a network of local libraries in highlands areas.
Accordingly, 70% of villages and hamlets, 85% of communes, wards and towns, 80% of districts, and 90% of provinces and cities nationwide aim to achieve the target of having sufficient basic cultural and information institutions of national standards by 2010.
To fulfill the target, 90% of provincial culture and information officials, 70% of districts', and 30% of communes' must have at least university education.
80% of cultural mountainous villages are planned to be built in remote areas and become "civilized and cultural villages" with more than 80% of households attaining cultural standards by 2010.
The government will double the budget for the construction of rotating warehouses of more than 20,000 books and raise the number of books given to local libraries in mountainous and remote areas with a fixed rate of VND15 million per year per local library.