Tens of thousands of local and international visitors took part in the closing ceremony of Hue Festival 2012 at the flag tower in Hue City on April 5.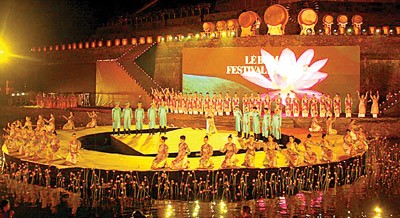 Art performance at the closing ceremony of Hue Festival 2012 (Photo: sggp)

The grand closing ceremony titled "Breath of Huong River" was a rendezvous of different cultures with several domestic and foreign art troupes taking part, including a drum performance by the Hue Royal Traditional Art Theatre; fireworks display by French artist Pierre Alain Hubert; folk dance by Bong Sen (Lotus) Theatre- Hong Hac group and Hue's children; Mongolian circus; dance and singing performances by the Raices Profundas art troupe from Cuba and the Russian Radunga art group.
The ceremony bid adieu to all international friends who had come from around the world to enjoy the biggest cultural festival in the country and are already eagerly anticipating Hue Festival 2014.
Hue Festival 2012 attracted more than 2 million visitors. Hotel capacity had increased by 75-91 per cent during the nine-day event.

Related articles:
Hue Festival attracts 2.5 million visitors
Only half way, Hue Festival already a success
'Ao Dai Festival' in Hue City
Musical concert for patients at Hue Festival 2012
Grand opening ceremony kicks off Hue Festival 2012
Hue City to host 'Drum and Percussion Festival 2012'
International art troupes to participate in Hue Festival 2012