Thousands of people gathered at the My Dinh National Stadium in Hanoi last night, April 27, to witness the official naming of Ha Long Bay as one of the New 7 Wonders of Nature in the world.
Vietnam's Vice President Nguyen Thi Doan, Bernard Weber, the Canadian-Swiss president and founder of the Zurich-based New7Wonders Foundation, were among the guests at the official naming ceremony.
At the ceremony, Deputy Prime Minister Nguyen Thien Nhan thanked thousands of Vietnamese people living in and outside the country and all international friends of Vietnam for enthusiastically voting for Ha Long Bay over the past four years.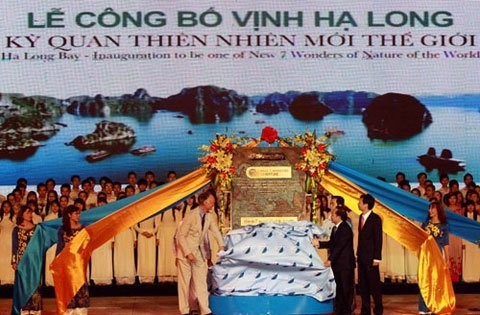 The Scene of the the ceremony (photo VNExpress)
He also stressed that local authorities and relevant agencies should make more efforts to preserve and bring into full play the natural features of the Bay in the near future.
Ha Long Bay was listed as a UNESCO World Heritage Site in 1994, in recognition of its outstanding, universal aesthetic appeal. In 2000, the World Heritage Committee additionally recognised Ha Long Bay for its outstanding geological value, said Vice PM Nhan.
He hoped that the event would bring inspiration, national pride, create motivation and participation on themes everyone could understand, themes that had real and lasting value. However he noted it was a big responsibility for Vietnam and Quang Ninh Province authorities to preserve Ha Long Bay.
Vietnam is willing to cooperate with New7Wonders in linking the world's new seven wonders of nature and natural landscapes worldwide, contributing to building a world of peace, cooperation, friendship and development, affirmed Deputy Prime Minister Nguyen Thien Nhan.
He said he hoped New7Wonders would always support Vietnam in its global campaigns and programmes, especially its tourism promotional programmes to bring visitors to Vietnam.
Nguyen Van Tuan, Director of Vietnam Tourism Agency remarked that: "It has been the best-selling destination for tourists. That's why establishing and advertising the tourism trademark of Ha Long Bay is the first and foremost duty of the tourism sector."
"A seminar on how to preserve and develop Ha Long Bay, the World Heritage Site will be held soon to outline a strategy and plan for Ha Long Bay", he added.
The whole stadium redesigned to resemble a huge stage in the form of a small Ha Long Bay (photo VNExpress)
Meanwhile, on April 27, Prime Minister Nguyen Tan Dung received President and Founder of New7Wonders Bernard Weber in Hanoi, and highlighted Mr. Weber's initiative to launch a global campaign in selecting world's new nature relics.
Bernard Weber, who came to Vietnam for the ceremony to announce Ha Long Bay as one of the world's seven wonders of nature, affirmed New7Wonders will closely link and advertise the world's New7Wonders, including Vietnam's Ha Long Bay, which has been recognised twice by UNESCO as a World Heritage Site for its landscape and geographical value.
Weber then gave a commemorative plaque that had been cast by hand in bronze in Munich to Culture, Sports and Tourism Minister Hoang Tuan Anh and Nguyen Van Doc, chairman of the People's Committee of Quang Ninh Province.
The same plaque will be given to Quang Ninh authorities on May 1 at the annual Ha Long Carnival event.
The ceremony to officially announce Ha Long Bay as one of the new world's natural wonders a miniature of Ha Long Bay with water, mountains and boat replicas, to show off the grandiosity of the heritage site.
The whole stadium was redesigned to resemble a huge stage in the form of a small Ha Long Bay with fake mountains, water and boats, with various dancing and singing performances praising the bay as well as other wonderful sites in Vietnam such as the Ho Dynasty Citadel Remnants, Phong Nha-Ke Bang National Park, Hue Citadel, My Son Sanctuary and Hoi An City.
The show also featured examples of intangible cultural heritage in Viet Nam such as Phu Tho's Xoan Singing, quan ho (northern love duet singing), ca tru (chamber singing), nha nhac (Hue royal music), don ca tai tu (southern amateur music) and Tay Nguyen Central Highland's gongs.
Selected from more than 440 locations in 220 countries, Ha Long Bay was an eventual finalist along with the Amazon (South America), Iguazu Falls (Argentina and Brazil), Jeju Island (South Korea), Komodo (Indonesia), Puerto Princesa Underground River (the Philippines) and Table Mountain (South Africa).
Earlier on November 11 last year, Ha Long Bay was named among the world's seven new wonders of nature, according to the global poll conducted by New Open World.
Ha Long Bay, which was recognised by UNESCO as a World Natural Heritage site in 1994, is spread on an area of about 1,553 sq. metres. It includes 1,969 islets, most of which are of limestone, formed over 500 million years. It has a 120km coastline, and is home to 14 endemic flora and about 60 fauna species.
Related Articles;