Cultural days, aimed at sharing Ha Noi's culture with the people of France, will take place from the end of May to the beginning of June in the French city of Toulouse. The event is one of a number of activities to promote cultural, tourism and economic cooperation between the two countries.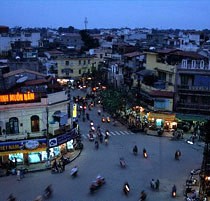 The sunset falls over Ha Noi.
This time is a great opportunity to promote the cultural features and images of Ha Noi, the 1000 year old Vietnamese capital that is becoming increasingly popular with the French.
Many activities will be organized for the event, including traditional water puppet performances, traditional music, exhibitions of traditional handicrafts, a food festival and tea appreciation workshops. Conferences will also be held to discuss cooperation for investment, trade and tourism etc.
"Aiming to strengthen the stable cooperation between the two countries, we will organize conferences and meetings to give Vietnamese and French enterprises an opportunity to market their wares, swap information, and get to know each other", Mr. Ha Van Que, director of the Ha Noi External Relation Office, said.
Ha Noi and Toulouse have established cooperation between their commercial and industrial chambers, become economic partners and coordinated in cultural and tourist activities in recent years.
Toulouse has supported the Vietnamese capital to carry out a recent project entitled "Ha Noi 2010 – Heritage and specific culture."