A Youth Theatre performance of "The Final 100 Minutes of Poet Han Mac Tu" opened the Second International Experimental Theatre Festival at the Ha Noi Opera House yesterday.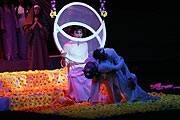 A scene in "The final 100 minutes of Poet Han Mac Tu".
The other plays to be staged between now and December 16 include "High School Graduate and Decapitator" from China, "Story of a Kidnapped Child" from Australia, "Circle of Sand" from France and "Legend of Life" from Ho Chi Minh City.
In all eight countries are participating in the event: France, Laos, Norway, China, Australia, Sweden, Cambodia and the host nation.
Organized by the Vietnam Stage Artists Association, the festival is described as an opportunity to introduce the outstanding values of traditional and contemporary Vietnamese theatrical art to international audiences and for local and foreign artists to communicate with, learn from and appreciate each other and their work.