The Sofitel Metropole Ha Noi Hotel and the Ha Noi Association of Bicycles and Sport Motorbikes held a vintage car charity tour in the capital on February 22.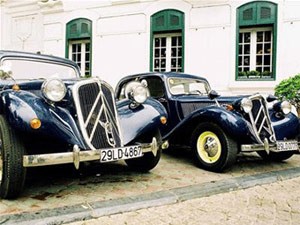 Vintage cars park in front of the Sofitel Metropole Hotel in Ha Noi before the start of a city tour to raise funds for an orphanage
The proceeds from the tour, the second since it debuted in 2007, will be handed over to the Nguyen Viet Xuan Orphanage.                              
Twenty vintage cars and bikes began the tour at the Sofitel Metropole Ha Noi and went around to various historical sites and ancient streets in Ha Noi before arriving at the orphanage.  
The two most impressive cars were a Citroen and Peugeot made in the 1930's.There were also a Vespa APE scooter and a FIAT 500 car both aged over 50 years. 
People could get a ride in the vehicles by buying a ticket for US$10. 
At the orphanage the organizers gave gifts like clothes, books, pens, and toys worth VND100 million (US$5,710) to inmates.   
In 2007 the tour had raised VND80 million (US$4,570) for children at Ha Noi's SOS Village.