The capital is getting busy preparing for its millennium birthday to take place on October 1.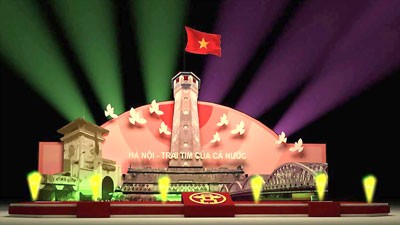 One of the five stages is built in Hoan Kiem Lake
The city is decorated with many flowers, green trees, barons and panels. Many important heritages throughout the city have been restored.

New constructions such as Thanh Giong (Saint Giong), Uncle Ho and late President Ton Duc Thang statues, Kim Dong and Cong Nhan theaters, Ha Noi Museum, and five stages in Hoan Kiem (Returned Sword) Lake for cultural and art activities during the 10-day grand anniversary have been also built quickly and put into operation.

According to the spokesman of the Ministry of Culture, Sport and Tourism, To Van Dong, the ministry has just approved more than 30 key programs of the capital's grand anniversary.

The cultural activities and festivities consisting of performances of international and national orchestras, gastronomy festivals, fashion shows, kite flying festivals, and street festivals aim to solemnly show people's affection and gratitude to ancestors and honor traditional historical and revolutionary values of the Vietnamese nation.

Among them, special art performances will be held everyday in Hoan Kiem Lake during the event at 7.30 to 9.10 with participation of more than 500 artists.

Highlights of the 1,000th founding anniversary of Thang Long – Hanoi are the opening and closing ceremonies on October 1 and 10.

More than 300 performances of local and foreign art troupes will take places on stages in the central and districts throughout the city.