The Monsoon Music Festival, dubbed the first ever "Made in Vietnam" event of its kind, presented a curtain riser in Hanoi on October 2 that thoroughly whetted the appetite of an audience with high expectations.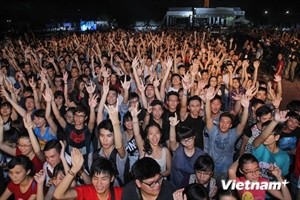 Audience at Monsoon fest music (Photo: VNA)
Vietnamese composer Quoc Trung (who initiated the event), Danish keyboardist Martin Hedin, and a group of quan ho (love duet) artists left several members of the audience raving about the experience.
The folk artists, in the traditional four-flap dress, sang the folk tune Moi Trau (Offer the Betel) to electro music created by Trung and Hedin.
"It's a very beautiful opening, to listen and to watch. Trung is really a sound magician," said Hoang Xa, a fifty-something IT engineer.
Standing by Xa was his friend, Le Van Hoa, who could not hide his excitement.
"I am really impressed by this act, which proves that composer Trung has come a long way from his previous international music show Duong Xa Van Dam (Thousand-Mile Way) nearly 10 years ago.
"More importantly, by combining folk tunes and electro music, he has brought new vitality to Vietnamese traditional music, which will help draw young people who mostly not keen on all kinds of traditional music," he said.
Xa and Hoa were among the few middle-aged people in a crowd of thousands of youngsters.
Having lived abroad for 30 years, Xa said it was great to re-experience the excitement he used to feel when attending concerts by famous singers many years ago.
"It is like going back to the days when I was a young student," he said.
"I'm a very open-minded person. I can enjoy all kinds of music, whether it is dance music, electro music or rock – genres that many people think are only fit for young people."
Young tourist couple Michal Borovsky and Zohar Museri of Israel danced to the music, backpacks still on their shoulders.
"When we were walking yesterday, we saw a ticket desk for the festival and decided to get them because we are a bit curious about Vietnamese music, something that we have not yet had a chance to listen," said Borovsky.
For Tran Hoang Thanh Thao and other members of an "all women club", the festival offered a special evening of fun.
"We headed straight here from our offices, hamburgers and drinks in our bags. We are very excited about enjoying the music as well as our 'gals only meeting'. We don't mind that our husbands have to stay home and take care of our children tonight. It's just for one night," Thao said.
Unlike Thao, Giao Anh – a student of the Hanoi University of Social Sciences and Humanities – was by herself.
She was already excited by the warming-up performances of DJ Tuan Kruise, rapper Kimmese and DJ Hoang Touliver as well DJ Lulu Rouge of Denmark, dancing non-stop.
Lying down sweaty on the grass and looking up the sky as she spoke to Vietnam News, Anh said she has bought the combo ticket for all three nights.
"No word can describe how excited I am at the moment. Nothing but music can help me express my true personality, a bit rebellious and quirky."
Australian Jenny Feltham said the festival was "maybe the biggest-scale music event" she has seen in Hanoi.
"It is like other music festivals that I've attended before in Australia," she said.
Feltham felt one difference was the relatively small number of food stalls at such a big event.
The opening night also featured performances by Vietnamese divas Tran Thu Ha, Hong Nhung and Thanh Lam, the all-women band Nam Dong Ke (The Stave), folk music band 9Bach from the UK, and electro rock band Carpark North from Denmark.
On October 3-4, the festival will present Vietnamese rock band Ngu Cung (Pentatonic), English-Argentinean guitarist Dominic Miller who has performed with Sting, Belgian artist Benjamin Schoos, Korean rocker Yi Sung-yol, and DJ Van Cliff from Japan.
Both days, music will play non-stop from 4-11pm.-VNA