An exhibition detailing the histories of Vietnam 's National Assembly and the ASEAN Inter-Parliamentary Assembly (AIPA) opened at a Ministry of Defense meeting-hall in Hanoi on June 7.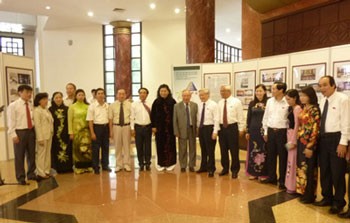 Members of the national assembly take part in the opening ceremony of the exhibition on June 7.

The exhibition, Which will run until June 21, has been organize to mark the National Assembly of Vietnam's stepping into its seat as AIPA-31 Chair.
The showcase will introduce people to the history and activities of AIPA, as well as the diverse functions of the National Assembly and its role in regional inter-parliamentary friendship and cooperation activities over the last 15 years, said Chairman of the National Assembly's Committee for External Relations Affairs Nguyen Van Son, who is also Head of the AIPA-31 organizing board.
The exhibition will move the Ho Chi Minh Museum from July 15-August 30 and then go on display at the AIPA-31 General Assembly September 19-25.
The AIPA now consists of nine members – Brunei, Cambodia, Indonesia, Laos, Malaysia, the Philippines, Singapore, Thailand and Vietnam. Myanmar takes part as an observer.