The 3rd Hanoi International Film Festival (HANIFF) opened at the Cultural Friendship Palace in Hanoi on November 23.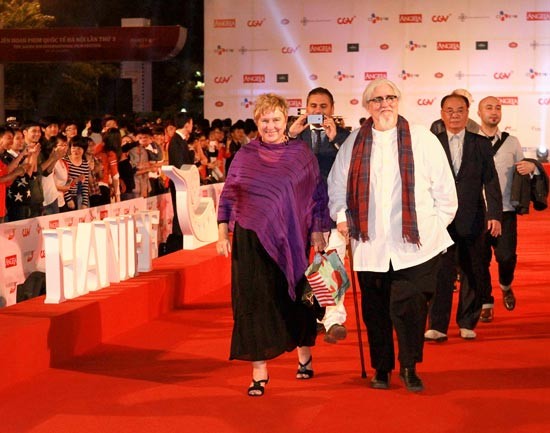 Famed actors and directors attend the 3rd Hanoi International Film Festival. (Photo: Sggp)
According to the organizers, this year's film fest will be divided into two categories, including full-length movies (normally of more than 75 minutes length) and short films (under 30 min in length).
Sivas, a film by Turkish director Kaan Mujdeci's which bagged two awards at the 71st edition of the Venice Film Festival and two prizes at this year's Abu Dhabi Film Festival, was chosen for screening in the opening ceremony.

Movie lovers will have five days to enjoy free screenings of outstanding films, such as "Broken" of the South Korea, "Missing Picture" of Cambodia which was nominated for the Best Foreign Language Film at the 86th Academy Awards,;"Water 2030" and "Sweetness" of Vietnam; the "Selfish Giant" the UK's director Clio Barnard; Stephen Frears' Philomena which was nominated in four Oscar categories, and won the best screenplay award at Venice, and first runner-up in the People's Choice Award competition at Toronto.
Around 327 movies from 33 countries and territories worldwide, including Vietnam, Thailand, Singapore, Malaysia, Indonesia, Cambodia, the Philippines, China, Taiwan (China), Japan, South Korea, India, Sri Lanka, Maldives, Kazakhstan, Tajikistan, Iran, Iraq, Turkey, Tunisia, Algeria, Qatar, the U.K., France, Germany, Sweden, Czech, Russia, Australia, New Zealand, the U.S., Canada, and Peru will be screened during event.
A reputed international Jury Board will judge and award prizes in categories, including The Best Feature Length Film, The Best Short Film, The Best Director For Feature Length Film, The Best Young Director For Short Film, The Best Leading Actor, The Best Leading Actress, The Netpac Prize, The Special Jury Award For Feature Length Film And The Special Jury Award For Short Film.
Besides, a series of activities such as competition camp, exhibition on popular filming locations in Vietnam, a seminar on cooperation of production of films, discussion about the Philippines' films and a film project market will aslo be launched during 5 day event.
Organizers said the event is aimed to give a chance for insiders to exchange, share experience and promote the film industry in Asia- Pacific region for "Cinema – integration and sustainable development".
The 3rd Hanoi International Film Festival is organized by the Cinema Department of Vietnam under the Ministry of Culture, Sports and Tourism. It will run until November 27.