The third Vietnam International Book Fair 2010 will take place at the Vietnam Exhibition Center in Hanoi from September 17 to 21.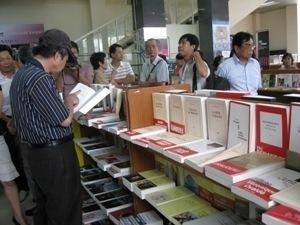 2010 International Book Fair will be held in Hanoi (Photo; vietnamplus)
The Frankfurt center for international book fairs and exhibitions will join the event for the first time with more than bring 800 books which will be then presented to the National Library.

The Chinese delegation of 93 representatives of 40 publishing houses led by the Chinese press and publication general office will bring to the fair 2,610 new prints and 2,685 copies.

The book fair also features more than 200 display booths of the Asia Pacific Publishing Association (APPA), ASEAN Book Publishers Association (ABPA) together with more than 100 local and foreign publishing houses, book distribution companies, book stores and printing establishments.

The biennial book show also includes a series of cultural activities such as seminars, exchanges between writers, publishing houses and readers and a ceremony to launch the book on the 1,000th celebration of Thang Long-Hanoi.

All books will be offered special discount in last two days.