The H-Artistry concert will present a blend of musical talents from America, UK and Australia at Quan Ngua Sports Palace in Hanoi on June 16.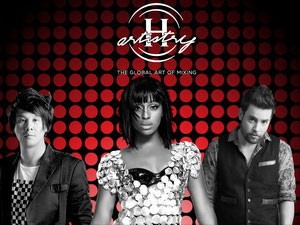 Thanh Bui (L), Alexandra Burke and David Roland (R) will hit the stage together in Hanoi
American Idol 2008 David Roland, X-Factor winner Alexandra Burke and Australian Idol contestant Thanh Bui will hit the stage together in the show.

American rock singer-songwriter David Roland was born in Houston, Texas in 1982. He rose to fame after winning in the seventh season of the reality television show American Idol. Prior to Idol he had released an album 'Analog Heart' and his post-Idol album, produced by Rob Cavallo, was released on November 18, 2008 and was declared a platinum hit by RIAA.

Alexandra Burke, 23, is a British pop recording artist who rose to fame after winning in the fifth season of British television show The X Factor in 2008. After wining in The X Factor, Burke released her debut single "Hallelujah" which sold 105,000 copies in a single day. Her debut album Overcome was released in October 2009 and entered the UK Albums Chart at number one.

Thanh Bui is an Australian-Vietnamese singer and songwriter. He was part of the boy-band 'North' who were among the top ten groups in Thailand, Indonesia, Malaysia, Philippines and India. The group split up in 2006. Bui was a contestant in the 6th season of Australian Idol. He was amongst the last top ten contestants.

The H-Artistry concert (previously called Hennessy Artistry) will present international talents to Vietnamese music lovers. The musical event has attracted thousands of people over the years.