A "Power of Humanity - 2008" concert organized by Vietnam Red Cross and Song Phuong Company was held at the Military Zone 7 stadium in HCMC on the evening of December 14.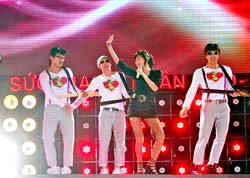 A Korean singer performing at Military Zone 7 stadium in Ho Chi Minh City on December 14. (Photo: SGGP)
The show commemorated the 62nd anniversary of the Vietnam Red Cross, introduced the Red Cross Patronage Council and raised money for the poor, the disabled and victims of Agent Orange and natural disasters.
Participating in the show were famous Vietnamese singers such as My Linh, Ho Quynh Huong, Dam Vinh Hung, Quang Linh, Dan Truong and Anh Bang.
A number of Korean singers also performed in the show, including Kim Huyn Jung, Lee Jung Huyn and Korean rock band Yoon Do Huyn and Hwang Jiny & B-Boy band, which specializes in performing modern dances to traditional music.