Ho Chi Minh City's 2008 Lunar New Year flower markets will be held at three locations this year, Gia Dinh Park in Go Vap District, September 23 Park and Le Van Tam Park in District 1 from January 30 to February 6, according to the city's Public Parks and Greenery Company
.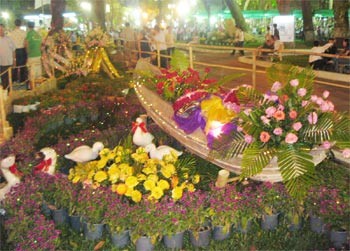 The Lunar New Year Flower Festival at Tao Dan Park last year. (Photo:KK)
The flower market at September 23 Park is to be the biggest with some 550 display booths. Gia Dinh Park will have 221 booths and Le Van Tam Park 100.
The HCMC People's Committee is to spend VND4.5 billion (nearly US$277,000) to support Saigontourist Corporation's decoration and organization of the Nguyen Hue Flower Street and Giant Banh Tet (glutinous new-year's rice cakes) festival, one of the events with the highest expectation of the public attendance during the Lunar New Year (Tet) holidays.
The HCMC Public Lighting Company will also spend VND1 billion (around US$61,000) on lightening systems for the festival and VND200 million (over US$12,000) for musical performances supported by the Department of Culture and Information.
The city authorities have asked the Department of Transportation and Public Works, HCMC Power Company and Saigon Water Supply Corporation to coordinate with investors to finish more than 100 road works which have caused recent traffic jams, before the Lunar New Year, said the city's People's Council and People's Committee.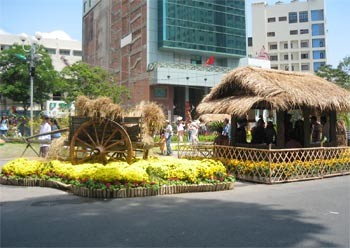 Nguyen Hue Flower Street in 2007 (Photo:KK)
"Flower Street" is to stretch from Bach Dang Wharf to the Headquarters of the Ho Chi Minh City People's Committee. Saigontourist annually organizes the Nguyen Hue "Flower Street" and related outdoor activities for Tet and the public have high expectations for both events.
Last year a record-breaking pair of giant banh tet made by the Dam Sen Cultural Park was displayed. The show usually takes place from the 28th day of the 12th lunar month to the 3rd day of the 1st lunar month of the next year. (February 4-9, 2008).
A 2008 Lunar New Year Flower Festival will also take place from January 27 to February 12 at the Tao Dan Park, said Vo Van Em, Deputy Director of the the city's Public Parks and Greenery Company.
The flower show will be larger than previous ones with over 6,000 items including ornamental plants, bonsais, rock-gardens, dried trees, grafting stones, cacti, ornamental fish and various valuable and rare flowers from throughout the country on display.
There are also to be performances of calligraphy and tea drinking, human chess playing and more, Mr. Em added.