The 10th Vietnam Poetry Day will be held at the Ho Chi Minh Museum in Ho Chi Minh City on February 5, organised by the Ho Chi Minh City Writers' Association and Sai Gon Giai Phong Newspaper.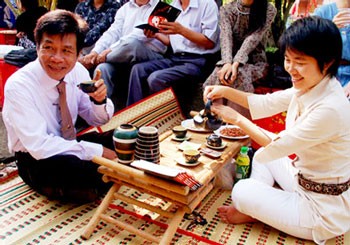 Vietnam Poetry Day will provide an opportunity for poets and readers to exchange their love for poetry. (Sggp)
Members from poetry clubs from various Districts, Youth Cultural House, Labour Cultural Palace, Ho Chi Minh City University of Social Sciences and Humanities, together with poets listed on websites vanthoviet.com and lucbat.com will join the event.
The event will present to readers poems and performances of traditional dances and martial arts.
In related news, the first Asia-Pacific Poetry Festival titled 'Poetry for a peaceful, cooperative and developed Asia-Pacific' opened in the northern province of Quang Ninh on February 2.
Nearly 50 local poets joined more than 100 foreign poets from 27 countries. Well-known names such as Kim Jung Hwan, Kim Jae Hong  from South Korea; Ed Tick and ERC Wendy from the US; Jidi Majia from China will participate in the event.
The event is an opportunity for the country to promote Vietnam's beautiful and serene landscapes and present its poetry to its international friends. Vietnamese poetry lovers will have a chance to enjoy famous poetry works by well known poets of the world.
The event is also expected to be a rendezvous for world cultures to merge and present the diversity of different cultures of other countries.
The festival will include various activities such as a flower and incense offering ceremony to poet and King Le Thanh Tong at the foot of the Bai Tho Mountain, a poetry reading session and a seminar on poetry.
The event will run until February 5.