The Ho Chi Minh City War Remnants Museum hosted Wednesday an exhibition titled "Memories of War" displaying photos by journalist and photographer Chu Chi Thanh, who is also the director of Vietnam Photographers Association.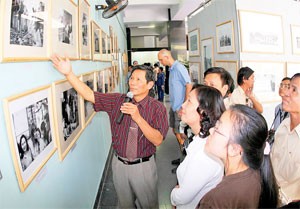 Chu Chi Thanh (L) briefs visitors about his photos at the HCMC War Remnants Museum December 26
The exhibition showcased 114 precious file photos selected from thousands, some yet to be released, all taken from 1967 to 1973 when the US invasion of Viet Nam was in its fiercest stage.
Chu Chi Thanh's photos depict various aspects of the war: the American administration's crimes against Vietnamese people, the unyielding spirit and heroic sacrifices of Vietnamese people and army, the benevolence and aspirations for peace and freedom of the peoples of Viet Nam, the US and the world.
Artist Thanh donated all of his photos to the museum in hopes they will help younger generations understand more about one of the nation's most difficult and glorious times.
The event was co-organized by the HCMC War Remnants Museum, Vietnam News Agency and Vietnam Photographers Association.