A performance of hip hop dances themed "Faces" is being held at the Youth Theater in Ha Noi on December 8 and 9.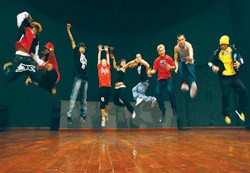 Hip hop dancers will take part in the performance.   (Photo: Goethe Institute)
On stage will be nine dancers from Vietnamese hip hop groups, including Big Toe, Milky Way and Sacred Crew. Joining them on stage will be folk instrumentalist Hoang Thi Thanh Hoa and percussion player Ha Dinh Huy, all under the instruction of European choreographers Sebastien Ramirez from France and Raphael Hillebrand from Germany.
"Faces" will mix traditional and contemporary culture to convey messages such as "In my life, what is my dream?", "As a young woman, what is my role in society?", "What is my future if I become a hip hop dancer?" and "What is love?"
The show will be presented at Ben Thanh Theater in Ho Chi Minh City on December 11-12 before heading to Indonesia.
Free tickets are available at the Goethe Institute at 56-58 Nguyen Thai Hoc Street in Ha Noi and 335/4 Dien Bien Phu Street in Ho Chi Minh City.