The Ho Chi Minh City Tourism Day 2011 will be held on the 23/9 (September 23rd) Park from April 7 to 10.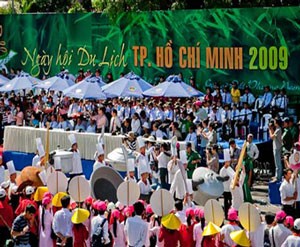 Hundreds of thousands of visitors take part in Ho Chi Minh City Tourism Day 2009.
According to the Department of Culture, Sport and Tourism the annual event is an opportunity for travel companies to publicize their brands and offer their products to consumers.
Various activities including a singing contest, a photo exhibition of beautiful landscapes and hot tourist spots in the country and a food fair will take place during the festival.
A special parade honoring Vietnamese brand names will be broadcast live on HTV9 channel in the closing ceremony of the festival.
Last years event saw hundreds of thousands of visitors arriving for travel information and to book tours from travel agents.