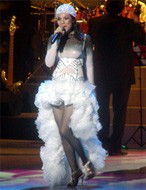 Singer Ho Quynh Huong (hoquynhhuong.info)
The ceremony of Cong Hien (Contribution) Musical Award 2005 was organized by The Thao Van Hoa newspaper (Sport and Culture newspaper) in M & Toi bar, on March 15, 2006. The awards were nominated by arts and cultural reporters nationwide.
"The Singer of The Year" went to Ho Quynh Huong, "The Musician of The Year" to Duc Tri and diva My Linh won "The Album of The Year" award.
The television program "Musical Road" of VTV received "The Musical Program of The Year" award.
The ceremony is liven up by winners' and guest-singers' performances.