Hoi An town, 28 km to the Southeast of Da Nang city, which was inscribed on the World Heritage list on December, 1999, has announced the completion of "Cultural Town", meeting the standards of third-grade town.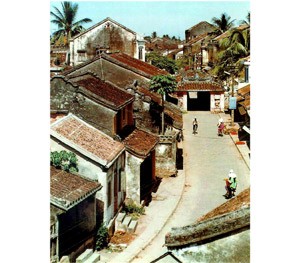 A corner of Hoi An town
Hoi An has been chosen to build a model of "Cultural Town" by the Ministry of Culture and Information of Viet Nam.
This aims to foster a cultural town with developing economy, secure politics and national defense security and without social evils.
Community convention and cultural models to date have been implemented effectively with 90 per cent of households to be recognized as cultural families.
Movements of public cultural and art performance and sports have gained strength as well as folk music, yo-heave-ho, traditional opera and classical drama clubs have been restored around town.
Regarding to the preservation of the national cultural heritage, it has been awarded for its achievements in management and conservation of inheritance by the United Nations Educational, Scientific and Cultural Organization.
Upon the sponsor of the government, domestic and international organizations, many heritage preservation projects have been undertaken.
Furthermore, Hoi An residents spent their money on mending and embellishing more than 600 ancient houses. Its GDP increases at an annual rate 14,6 % and earning per head is more than VND10 million a year.
The unemployment rate has been reduced to 1, 8% and poor household 2 %.