The next Hue Festival, slated for 2012, will be bumped back a month to July instead of June like in previous years, announced event organizers at a press conference on June 14.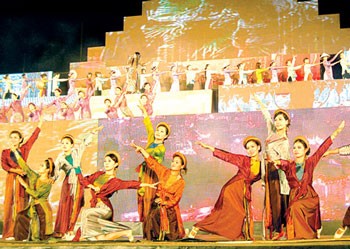 A dancing performance in the opening ceremony of Hue Festival 2010 (Photo: SGGP)
The festival has been moved to ensure the festival does not coincide with events for "National Tourism Year 2012," scheduled for June in the historic former imperial capital of Hue, explained the organization board.
Organizers also said July would not be a rainy month, ensuring good weather for the event.
The Hue Festival 2010 just ended on June 13.
That chairman of that festival, Ngo Hoa, who is also Deputy Chairman of the Thua Thien-Hue Province People's Committee, said it was the most successful festival in recent years. He said it met all the criteria for a great event by impressing visitors with spectacular displays of both tradition and modernity.
The quality of performances has improved over precious years, said Hoa, who also noted that more visitors had been drawn to the event.
The Hue festival 2010 featured a giant stage that showcased local and foreign artists backed by a vast set.

Related articles:
Hue Festival 2010 creates emotional attachment
Reenactment of 'Southward March' attracts thousands
Second day of the Hue festival highlights rural markets
Colorful, traditional Hue festival on the go
Hue prepared for festival, but prices rising
Jubilant atmosphere to cover Hue this weekend