The nine day Hue Festival 2012 has drawn close to 2.5 million visitors and opened vast opportunities for cultural exchange between Vietnam and several countries since it opened on April 7, said Ngo Hoa, head of the Festival Organising Committee.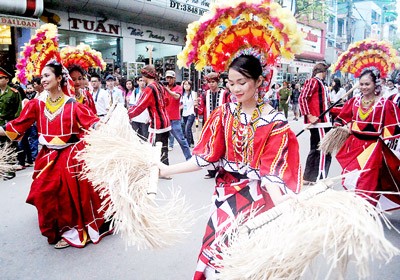 Tourists enjoyed many spectacular street art performances at Hue Festival 2012 (Photo:SGGP)
The number of foreign visitors increased by 15 per cent this year and domestic visitors by 18 per cent, compared to last year. The festival has been a great success in many ways, and also in blending the   traditional with the modern, Hoa added.

Performing artists from 28 countries and territories brought together hundreds of unique shows. Thousands of talented artists, actors and actresses attended the event, creating an amalgam of various cultures.

Hue Festival was first held in 2000 and has since become one of the biggest cultural events of Vietnam, not just in Hue. In addition, the festival serves as an interesting cultural meeting place in the country for cultures of so many countries of the world.

Hue Festival not only promotes Hue City and the north-central coastal region, but also helps consolidate friendship between Vietnam and nations across the globe, Hoa said.

This is an excellent opportunity for people from around the globe to gather and showcase their unique cultural identities, foster ties and join hands in building a peaceful and prosperous world, cutting across multi-cultures, Hoa added.
Besides, hundreds of domestic and foreign companies brought their products to display at the festival venue, helping the province of   Thue Thien-Hue to develop both tourism and business.
Related articles:
Only half way, Hue Festival already a success
Grand opening ceremony kicks off Hue Festival 2012