The central province of Thua Thien-Hue has readied itself for the Hue Festival 2010, but organizers are worried that local service providers are hiking prices.
The biennial event of art and culture scheduled to take place in the former imperial capital city of Hue from June 5 to 13 has already attracted thousands of domestic and foreign visitors, organizers said, adding that Hue is becoming noisier each hour.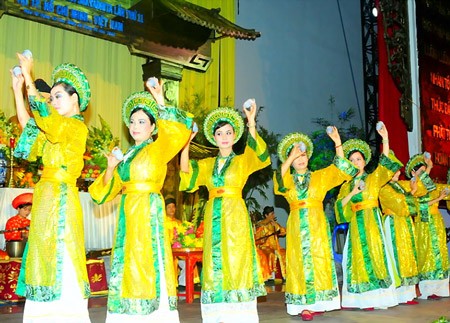 Performances of Hue royal palace dance will be a highlight of this year's Hue Festival. (Filed photo: SGGP)
The festival atmosphere has also taken over the districts of Huong Thuy, Phong Dien, Huong Tra outside the city center as everyone readies for the event, themed "Cultural Heritage with Integration and Development."
Ngo Hoa, head of the festival organizing committee, said 12 stages totaling 25,000 seats with modern lighting and audio systems had been built to host 17 major performances at the Hue Royal palace, An Dinh Palace, Tinh Tam Lake and along the Huong River.
The stage built at Ngo Mon (Noon Gate), where the event's opening ceremonies will take place, is the largest at three stories tall.
The 1500sq.m floating stage on Tinh Tam Lake promises to be a thrill when it hosts performances of  traditional Ca tru (ceremonial songs), quan ho Bac Ning singing (Bac Ninh folk love duets) and nha nhac Hue (Hue royal court music). All three genres of music have been recognized by UNESCO as world cultural heritages.
Hoa said domestic art troupes and art troupes from 30 other countries are in Hue preparing their performances.
Price problems?
According to Nguyen Van Thang, chief inspector of Thua Thien – Hue Department of Culture, Sports and Tourism, inspectors are checking hotels and guest houses in order to minimize the escalation of the prices that always accompanies festivals in Vietnam. The department is ensuring that hotels abide by their officially listed prices, Thang said.
But he added that many hotels on Hung Vuong and Ben Nghe streets had kept rooms open in a deliberate attempt to raise prices when the festival opens.
Normally, such hotels charge VND150,000 – 180,000 (US$7.9 – 9.5) per room, but they were now charging VND250,000 – 300,000 ($13 – 16), said Thang.
Visitors who arrived in Hue on June 3 told SGGP they were disappointed they could not find available rooms.
Tran Cong Lan, a visitor from Hai Phong City, said his group of 20 people came to Hue for the festival, however, they could not find any hotels which that had enough rooms for them. They've decided to stay outside the city.
Festival organizers also said restaurants and food and beverage vendors had raised prices 20-30 percent for the event.