A group of researchers of the Hue Royal Traditional Art Theater has completed a scientific report on restoring the Phu luc dich (Phu luc for the flute), one of the Royal Court popular songs, according to the Hue Monuments Conservation Center.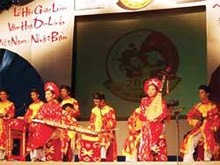 A performance of Nha Nhac or royal court music of Hue
The song was performed at banquets in the royal court and activities in the imperial palace.

Nha Nhac or royal court music of Hue was recognized by UNESCO as an intangible cultural heritage in 2003, and has been named on a 90-strong representative list of Intangible Cultural Heritages of Humanity.
Meaning 'elegant music', Nha Nhac refers to court music performed at annual ceremonies, anniversaries and religious events, as well as special events such as coronations, funerals or official receptions. Although its roots can be traced to the 13th Century, Nha Nhac reached maturity in the royal place of Hue under the Nguyen Dynasty (1802-1945).