Hue Traditional Craft Festival 2011 for promoting Vietnamese food and ornamental plants will be held from April 30 to May 3.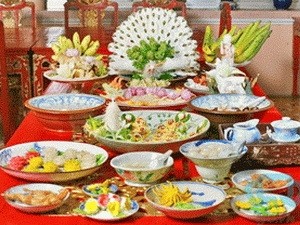 A sumptuous array of dishes will be presented in the festival
This year's theme "Vietnamese kitchen in Hue ornamental garden" will be showcased in Ngo Mon Square, Dai Noi Imperial Citadel and Huong Riverside in Hue City.
 
Besides offering sumptuous dishes in the "Southern cuisine" pavilion, a performance of southern amateur music (don ca tai tu), Khmer dance and folk music will also be presented.
 
The "Northern food and recipes" pavilion is sure to attract visitors with its offerings of Hanoi specialties, folk games and performances of ca tru (ceremonial songs) and hat xam.
The "Hue vegetarian food" section will introduce royal dishes, Hue sweet soups, Hue rice and cakes.
There will also be a floating food fair on Huong River in the evening during the festival.
The event will include an ornamental tree festival at the Ngo Mon Square, Phu Van Lau Park and Nguyen Dinh Chieu walking street.
Many artisans of the Vietnam Ornamental Tree Association and ornamental tree clubs of cities and provinces nationwide including Hanoi, Bac Ninh, Ninh Binh, Hai Duong, Phu Tho, Thanh Hoa, Nam Dinh, Quang Ngai, Da Nang, Binh Duong, Ben Tre, Ho Chi Minh City and Thua Thien-Hue will join the show.
An exhibition of ancient cooking utensils will be organized at the Lieu Quang cultural center and Ta Vu House in Dai Noi.

The festival will also include a cooing contest for children, a photo exhibition and an environment walk.
Hue Traditional Craft Festival is organized every two years during the peak tourist season to attract local and foreign visitors to Hue.