The Huong Pagoda in My Duc district of Hanoi is traditionally a place where pilgrims go to welcome the lunar New Year and on the sixth day of the lunar New Year they begin a three month long Huong Pagoda Festival.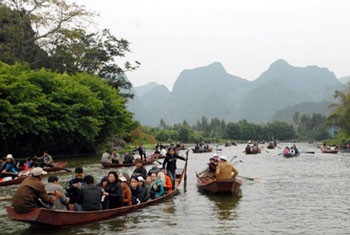 Huong Pagoda Festival (Photo: dantri)
This year more than 10,000 pilgrims visited the Huong Pagoda on first five days of the lunar New Year (February 3-7).

4,600 high-quality boats have been put at the disposal of visitors expected to visit the Huong Pagoda for the Festival.

Local authorities have invested more than VND5 billion (US$250,000) to improve and enlarge roads to make travel to the Pagoda more convenient.

The organizers have also laid strict regulations to deal with violators and vandalism of Buddha's holy place of worship and the surrounding beauty, landscape and environment.