Two "Immortal Foreign Songs" Concerts will be organized on August 5-6 at the ATB Music Club in Ho Chi Minh City. The audiences will enjoy the songs which went into music lovers' hearts including La Paloma, Green Field, Romance, Papa, Comme Toi, Love Story, Serenade, etc.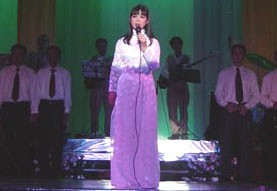 Singer Anh Tuyet on the ATB stage.
The concerts are attended by Anh Tuyet, Duc Tuan, Xuan Phu, Quynh Lan, Nguyen Thao, My Dung and so on.

The ATB (Anh Tuyet Band) Music Club was established by singer Anh Tuyet in May 2001, located at 234 Ly Tu Trong Street, District 1.

Anh Tuyet, who was well known in Vietnam for her silky voice, is considered the only singer who has scored the most successes in singing songs of Van Cao, a famous composer in Viet Nam, who composed the national anthem and passed away in 1995.

Anh Tuyet fell in love with Van Cao's works when she first listened to them. She organized concerts to honor Van Cao on his Memorial Day every year and performed his works together with other singers.