The Indian Festival of Light, or Diwali, that is celebrated by millions of Indians all over the world, will be light up Ho Chi Minh City this Sunday.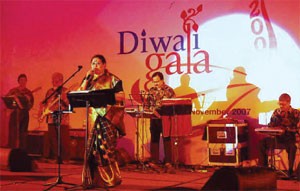 An Indian singer performs at Diwali Festival last year
The Diwali festival will be held at Sheraton Saigon Hotel on Dong Khoi Street in the evening.
The celebration will also mark the 10th anniversary of establishment of Indian Business Chamber (INCHAM) in Viet Nam.
The event will begin with Indian traditional ceremonies and cultural programs, and will be followed by a soft rock and modern folk music performance by Dhunn, a music band of eight singers, instrumentalists and dancers from India.
A wide selection of Indian food including many sweetmeats will also be presented during the celebration.
Funds raised from the event will be used to benefit disadvantaged children in Viet Nam.
Last year, INCHAM donated VND160 million generated from the 2007 Diwali festival to the Vietnam Fatherland Front.
Rajeev Garg, chairman of the Indian Business Chamber (INCHAM) in Ha Noi, said the festival will be celebrated in the capital city on November 1.
He said over the last few years the festival has become a permanent fixture in the capital's cultural calendar.
More than 1000 guests are expected to attend the celebrations.
Diwali is a five-day Hindu festival in India, which occurs on the fifteenth day of Kartika month. Diwali means "rows of lighted lamps".
During this time, homes are thoroughly cleaned and windows are opened, and lamps lit everywhere to welcome Lakshmi, the goddess of wealth. Gifts are exchanged and festive meals are prepared.