The International Boat Racing Festival 2011 officially opened at Hon Rom beach in Phan Thiet City in the southern province of Binh Thuan on March 17.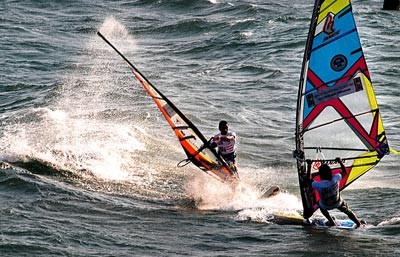 International Boat Racing Festival opens at Hon Rom beach, Phan Thiet City in southern province of Binh Thuan on March 17.
The festival titled "Boat, Sea and Sun" attracted 20 sailing groups, including some strong contenders from Russia, Netherlands, Sweden, US, Italy, Greece, Spain and Japan.
Speaking at the opening ceremony, Deputy Prime Minister Nguyen Thien Nhan described Binh Thuan Province as an ideal tourist destination for sea sports.This is the first festival of its kind ever held in Vietnam, creating new opportunities for Binh Thuan Province and Vietnam as a whole, to develop sea tourism and water sports.
He added that Binh Thuan should increase economic activities and build a roadmap to attract foreign investors.
During the 4 day festival from March 17-20, there will be four evening Pop & Rock Gala music events with participating singers from Russia, Australia, Austria and Czech Republic.
A science seminar on building Vietnam's sea trade will also be held by the Vietnam National Administration of Tourism.