The first official international collaboration music program for teenagers will debut May 23, Cat Tien Sa Media announced recently.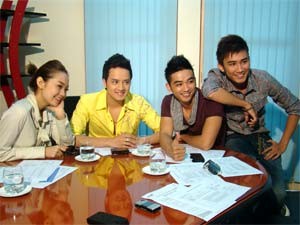 Three Vietnamese artists to perform in the debut show "He nhiet doi" from left to right: Minh Hang – Cao Thai Son – La Thang boyband (Photo: Courtesy of Cat Tien Sa)
The artistes confirmed are: Cao Thai Son, Minh Hang, boyband La Thang, (Vietnamese) and Leon Lim (Singapore). There are also two special guests, Ho Quynh Huong and Lieu Ha Trinh.
Every singer will perform a song by another singer. This means Minh Hang will perform a song originally performed by Cao Thai Son, Cao Thai Son will cover a song by La Thang and La Thang will spice up a song by Minh Hang.
There are also duets between Cao Thai Son and Ho Quynh Huong, and Minh Hang and Leon Lim.
The debut show, "He nhiet doi" (Tropical summer), is part of the monthly music series "Hoa nhip ban tre" (Harmony between young people), which is running from May 2009 to April 2010 by Ho Chi Minh TV and Cat Tien Sa Media.
The format of the series has three Vietnamese singers and one international singer. They will collaborate with each other on stage. Besides the performances, the artistes will also participate in charity activities, such as presenting gifts to orphanages, people with disabilities and elderly homeless people.
The show will be broadcast live on HTV9.
The performance starts at 8.30pm at the Nguyen Du Club, 116 Nguyen Du, Ho Chi Minh City.