The Vung Tau International Kite Festival '09 is in its final preparation stage for the March 26-30 show. It will be held in the southeastern coastal province of Ba Ria – Vung Tau, local officials announced February 26.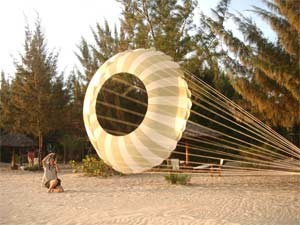 A foreign tourist takes a photo of a kite on the beach of Ho Tram (Photo: Truong Son)
The festival will have participants from the US, New Zealand, Canada, Singapore, the UK, Germany, India, China, Taiwan, Indonesia, Malaysia, Brunei, Cambodia, Thailand and Malaysia.
There will be 300 distinctive kites of different shapes and sizes from various cultures.
Vietnam will send three teams to represent Ho Chi Minh City, Hue and Ha Noi.
Addressing the press conference, Mr. Nguyen Van Son, Deputy Director of the Culture, Sports and Tourism Department, said, "The festival is expected to be a real showcases of both ancient modern kites from different cultures, which all bring the most unexpected surprises to audiences.
"In addition, we, the organizers, all hope that the festival will accomplish its three missions: raising the demand for travel from the local and foreign tourists; strengthening and promoting the tourism of Ba Ria – Vung Tau in particular and of Vietnam in general; and most of all, attracting more foreign tourists to Ba Ria – Vung Tau in particular and to Vietnam in general."
Mr. Tran Tuan Viet, Director of Ba Ria - Vung Tau's Culture, Sports and Tourism Department, noted: "The expected budget for this festival is up to $50,000, of which $25,000 will go to pay travel fares, accommodation and transportation for the participants. The festival will not have any jury to judge the teams but there will be some friendly prizes like 'The longest kite' and 'The heaviest kite'."
All the participants will arrive in Ba Ria – Vung Tau province on March 24 and one day later will attend a welcome party at the Ho Tram Beach Resort & Spa.
They will have half a day off on March 26 before performing in a pre-show, 'Flying a kite in a small space,' which requires the greatest and most skilful techniques to control the direction of the sport kites and fly them in an artistic fashion.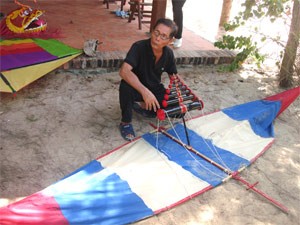 Mang and his 'dieu sao' (flute- kite- a Vietnamese traditional kite, including seven bars to make a rhythm when the kite flies) (Photo: Truong Son)
The pre-show will consist of six to eight performances by kite flyers from Canada, France, Hue and Ho Chi Minh City
After the inauguration in the morning of March 27, the participants will perform the whole day at Ho Tram.
Following day performance will be held at Vung Tau City.
There will be a special night performance on March 28, 'flying kite by night', by Ho Chi Minh City's District 8 Club. The performance will include light and sound.
The kites will fly one last time in Vung Tau city, March 29.
On the day of the press conference, a promotional program was held with local flyers and their kites in a relaxed atmosphere.
When asked about how to make a kite, Mang, a local craftsman said, "To me, a person who lives my whole life with the kite, I'm not really sure if I can make a kite in less than a month.
The process to make a kite requires you follow many steps, from selecting suitable materials, processing them with chemicals to dry and form the shapes. For some kites, I still have to import the materials from the north. Making a kite is really an art, which requires the maker to be patient and scrupulous."
From left to right: Tran Tuan Viet –Nguyen Van Son –Cao Lap, at the press conference on February 26 (Photo: Truong Son)
"Every kite I make can be sold for VND2 million ($114) or more but as I know, some kite flyers can pay about two or three times higher for kites they really like," Mang added.
The press conference was also attended by Mr. Cao Lap, Director of the Ho Tram Beach Resort & Spa.
The first international kite festival, with its slogan 'Vu dieu Bien Dong' ('Eastern Sea's dance'), is organized by Ba Ria – Vung Tau People's Committee and Ho Tram Beach Resort & Spa and is expected to be annual event for many years to come.