The first International Photo Contest, held by Gia Dinh Photography Club, has chosen four winners from among nearly 2000 colored photos and 1,273 black-and-white photos by 537 photographers from 26 countries and territories.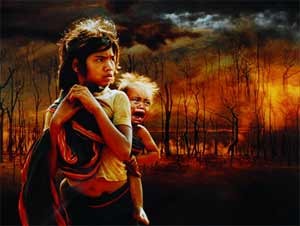 The 'Cuu!' ('Help') by Pham Duc receives the highest honor in the FIAP group (Photo: Tuoi Tre Newspaper)
The competition is co-sponsored by the Fédération Internationale de l'Art Photographique (FIAP), the Vietnam Association of Photographic Artists (VAPA) and Ho Chi Minh City Photography Association (HOPA).
The two main categories: 'original' and 'retouched'
In the FIAP group, the winners are 'Suc Song' ('Vitality') by Bao Hung and 'Cuu!' ('Help!') by Pham Duc, both from Vietnam. In the VAPA group, the winners are 'Con Giong Cha' ('Kid looks like his dad') by Jan Thomas Stake from Sweden and 'Duong Ve' by Le Buu from Vietnam.
The chairman of the judging panel, Mr. Chu Chi Thanh, praised the ideals and creativeness of the photographers, and many of the photos touched the panel. He noted that the open theme of the competition gave photographers more opportunities to create and develop their ideas.
'Cuu' by Bao Hung presented a retouched scene of a young boy carrying his younger brother, lost in a forest fire.
Other photos gaining praise from the panel, include 'Thoi gian' ('Time') by Wong Lai Chu from Macau, 'Nac Thang Ngo Chet' ('Staircase to death') by Huynh Hung and 'Em Dem' ('Peaceful') by Le Huu Dung.
'Thoi gian' used photographic effects to create an hourglass with an old woman in the upper bulb and a younger woman falling out in the lower part.
'Nac Thang Ngo Chet' ('Staircase to death') wanted to alert the people about the dangers of smoking. He merged a skull that is smoking a cigarette and two teenagers walking down a staircase of cigarettes to their death.
'Em Dem' ('Peaceful') photographed a peaceful river scene in the countryside of Vietnam, in which a fisherman goes fishing in his small boat.
The award ceremony and exhibition will be held at HCMC exhibition house in district 1 on January 31. The winning photos will also be published in a photo book.