Thanh Nien newspaper's annual fundraising show of music and fashion will take place on December 30 and 31 at the VinPearl island resort just off Nha Trang. It will be the 16th edition of Charming Viet Nam (Duyen Dang Viet Nam), as the show is called, and will feature a strong line-up of home-grown and foreign talent.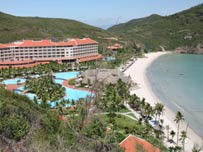 VinPearl Resort
The usual suspects from the local scene will be there, namely My Linh, My Tam, Phuong Thanh, Dam Vinh Hung, Quang Dung, Tung Duong, Kasim Hoang Vu, Duc Tuan, Minh Thu, Ha Anh Tuan, Nguyen Thao, Phuong Linh and the four young men who call themselves AC&M.
Joining them will be the overseas Vietnamese singers Tuan Ngoc, Duc Huy, Huong Lan and Elvis Phuong, who has pretty well taken up residence here again, along with Thomas Warren Skiff from the American band Maxx Thrust.
In the fashion segment, more than 30 of the country's top models will parade in the designs of Kieu Viet Lien, Thuan Viet and Angel Phan. The reigning Miss Viet Nam, Mai Phuong Thuy, will also be there.
As a special treat, the first night will be compered by Miss Universe 2005 Natalie Glebova and Miss Thailand 2006 Charm On Warin Osathmond.
Charming Viet Nam was launched in 1990 to finance the Nguyen Thai Binh Scholarship Fund for the children of poor families. Its subsequent success has resulted in most of the major entertainment acts clamoring for a spot.
Tickets are available in Ho Chi Minh City at 248 Cong Quynh Street, District 1 and 287 Ly Thuong Kiet Street, District 11, and in Nha Trang at Phu Quy Tourist Port in Vinh Nguyen Ward, and the Thang Loi Hotel at 4 Pasteur Street. Tel: (058) 590617 or 598123.
The 17th edition of Charming Viet Nam will be held at the National Convention Center in Ha Noi on January 27 and broadcast live by Vietnam Television on one of the VTV channels.