Italian artist Giuseooe Mastropierro unveiled a ceramic mosaic, part of a giant mural along the Red River in Hanoi, for viewers on June 22.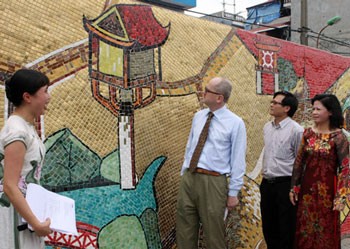 Italian artist Giuseooe Mastropierro's ceramic mosac, part of a giant mural along the Red River in Hanoi, is presented to viewers on June 22.
The painting reflects the similarities and differences between Italian and Vietnamese cultures through a juxtaposition of Hanoi icons, such as the legendary turtle that is said to live in Ho Guom (Sword Lake), Chua mot cot (One-Pillar Pagoda), Khue Van Cac (University of Literature), and typical Italian images likely the Colosseum in Rome, Leonardo Davinci and the Mona Lisa.
The "Ceramic Road Along the Red River" project is decorating 6,000m of dykes along the Red River. Journalist Nguyen Thu Thuy launched the program at the end of 2007. The embankment's walls are now filled with traditional patterns and Hanoi landscapes that celebrate the city's 1,000th anniversary.
The wall also features patterns popular during the Dong Son era and the Ly, Tran, Le and Nguyen dynasties.
Artists from across Vietnam and the world have contributed to the project.
The giant ceramic mural incorporates decorative modern art, the traditional aesthetics of Vietnam's 54 ethnic groups, paintings of Hanoi by children, and ceramic paintings by local and international artists
The project has also inspired international artists like Joel Bennett of the US, Michael Geertsen of Denmark, and Dominique de Miscault of France to take part.
To date, more than 55,000 sq.m. of the ceramic mural has been completed, said Ms. Thuy, the project director
 
Ms.Thuy hopes the work will make it into the Guinness Book of World Records for the world's longest ceramic picture by the end of this year.