The fashion show "From the West to the East" at the Daewoo Hotel tomorrow will open the Italian Culture Week, which is being held in Ha Noi from Oct 20 to 26 to make Italian culture better known to the Vietnamese public.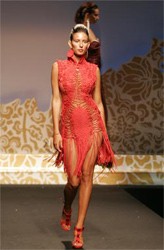 A design of the collection
The show will feature the collections of young Italian young designers Wilma Traldi and Nadia Ciani together with ten from the High School of Fashion and Design of Naples.
In the colors of their striking and sometimes romantic designs, the most decisive are white to symbolize the purity of the East and red to stand for the strength of the West.
Away from high fashion, there will be an Italian Film Festival at the Hai Ba Trung Movies Club on October 23, 25 and 27 and an exhibition of contemporary art with the theme of the maternal relationship honored by the poet Pier Paolo Pasolini in Supplica a Mia Madre on October 21.
The week will conclude with a concert by pianist Ton That Triem and some Italian artists on October 26. Fashion designer Do Minh Ngoc will be there.