The Japanese government has decided to provide Vietnam's Youth Theatre with non-refundable financial assistance worth over 1.7 billion VND (almost 80,000 USD) to help it implement a project to upgrade its outdated equipment.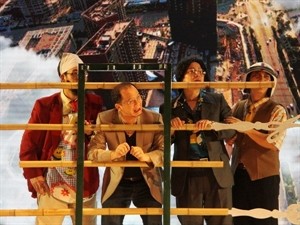 Artists of the Youth Theatre in a play (Source: VNA)
An agreement for the aid was signed by theatre director Truong Nhuan and Minister-Counsellor of the Japanese Embassy Hideo Suzuki Hideo in Hanoi on March 12.
As part of a Japanese programme offering cultural aid through the Japanese Embassy and the Japan Cultural Exchange Centre in Vietnam, the project also aims to improve the management and performance skills of staff working in the theatre.
In addition, the Japanese International Exchange Fund will also finance Vietnam to send 15 people, including artists and technicians from the theatre, to attend a training course in Japan from March 22-July 13.
Addressing the signing ceremony, Deputy Minister of Culture, Sports and Tourism Vuong Duy Bien thanked the Japanese side for the assistance, saying that the support will help Vietnamese artists improve their skills, thus creating higher-quality art performances.
Suzuki said Japan's support will further intensify the importance of culture through improved art performances and programmes.
In 2004, Japan also offered 500,000 USD to Vietnam's Symphony Orchestra to improve its quality