As many as 200 Japanese cherry blossom trees are in full bloom at a festival that is open to the public on March 8-9.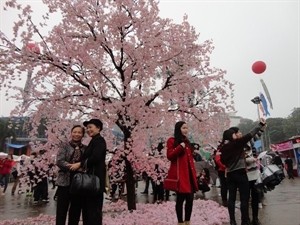 The festival (Source: VNA)
Festival-goers braved the rain to enjoy the opening of the event, which also features Yosakoi dance performances by groups of Vietnamese and Japanese artists.
Also attracting crowds are stalls of traditional Japanese food and ones displaying Cosplay and Origami paper folding, performances of Kendo and Aikido martial arts.
Leading Japanese universities are present to introduce study and scholarship opportunities. Other information about the country's culture and education is also available.
Held for the first time in 2007, the annual festival is highly anticipated by many Vietnamese people