The Ha Noi-based Youth Theatre recently confirmed a tour a Japanese theatre company, Tokyo Engeki Ensemble, starting late February and will take in three cities: Ha Noi, Hue and Ho Chi Minh City.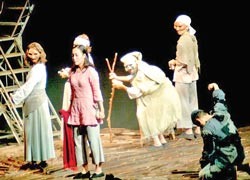 A scene from 'The Good Person of Setzuan' (Photo: SGGP)
The play, 'The Good Person of Setzuan,' written by the German playwright Bertolt Brecht, is directed by Sawako Shiga.   
The play deals with the bad habits of some classes in Setzuan and the process by which these classes try to change and give up them up. Tokyo Engeki has performed the play all over Japan. 
The play was also performed at the 2007 Busan International Performing Arts Festival in South Korea.
When asked about bringing the play to Vietnam, Shiga said, "We chose this drama to perform in Vietnam to promote cultural exchange between the two countries. Moreover, the drama successfully delivers the message that the huge gap between rich and poor in the world creates increasing social ills."
The 30 Japanese artistes will have two shows in Ha Noi February 27 and 28, one show in Hue March 3 and two shows in Ho Chi Minh City March 7-8.  
Vietnamese subtitles will be on screen during the shows. Entrance is free.   
The Tokyo Engeki Ensemble was formed in 1954 and has performed in various countries worldwide, including US, Russia, Italy, UK and Ireland.  
The company has performed such dramas as: 'Sakura no mori no mankai no shita' ('In a forest of full-bloomed cherry blossoms'), 'Hashire Merosu' ('Run Merox'), 'Ginga tetsudou no yoru' ('Night of the Milky Way railway') and 'Mother-Mother'.
The ensemble now has 70 artistes and led by Sawako Shiga.