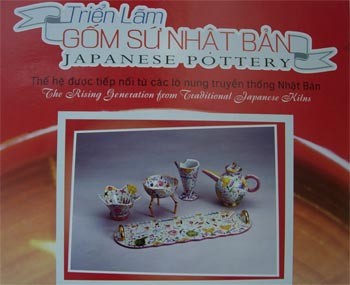 The Japanese potterry exhibition takes place from Oct 18 to 27 at the HCMC Exhibition House   (Photo:KK)
The work of a rising generation of young potters at seven of Japan's biggest traditional kilns can be seen at the Ho Chi Minh City Exhibition House from Oct 18 to 27.
Thirty five up-and-coming artists are represented at the exhibition organized by the Japan Foundation, the Ho Chi Minh City Museum, and the Consulate General of Japan.
The various and diversified shapes and colors show the artists' skill and creativity and give the public a chance to contemplate special works of art as well as understand traditional Japanese pottery.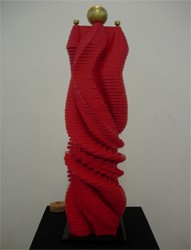 "Whirl" by Sculptor Phan Phuong (Photo: KK)
The Japan Foundation was found in 1972 for the purpose of introducing Japanese culture abroad and deepening mutual understanding with other countries through the promotion of cultural exchange.
Still on the subject of art, the Saigon Sculpture Symposium 2006 is taking place at the HCMC Association of Fine Arts from Oct 14 to 19.
On display are 34 pieces fashioned from bronze, stone, composite, iron and other materials by 10 sculptors, among them Hoang Tuong Minh, Phan Phuong, Vinh Do, Tran Viet Hung and Nguyen Anh On. They speak the language of life in all its guises.