A former circus performer, Doan Hoang Kien is about to open an exhibition of his paintings. 'Gioi han' ('Limit') will open over February 22-28 at the Viet Art Center of Ha Noi.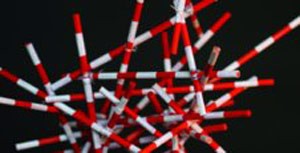 The red and white bamboo will be used in the exhibition (Photo: Courtesy of Embassy of Denmark)

The exhibition is sponsored by the Cultural Development and Exchange Fund through the Danish embassy in Ha Noi. 
'Gioi han' separates 60 paintings into 3 sections in accordance with the art arrangement. The frames of all the paintings are decorated in the same way, with white and red stripes, while the venue is designed with a background of white and red painted bamboo. 
When asked about the exhibition's concept, Kien said, "The exhibition will give a piece of mind to viewers about the limits in ability of every person. The exhibition will also talk about some contrary attributes inside people, including 'motion' and 'motionless', 'talk' and 'silent', 'compassion' and 'cold-heartedness', and 'faithful' and 'desperate.'" 
During the opening, catalogues of the exhibition will be available for sale. All the proceeds from the catalogues will be donated to the fund by 'Nguoi toi cuu mang' ('The ones I take care of') organization. This fund will be used for charity and humanitarian activities.